How do I choose the right pair of jeans for women?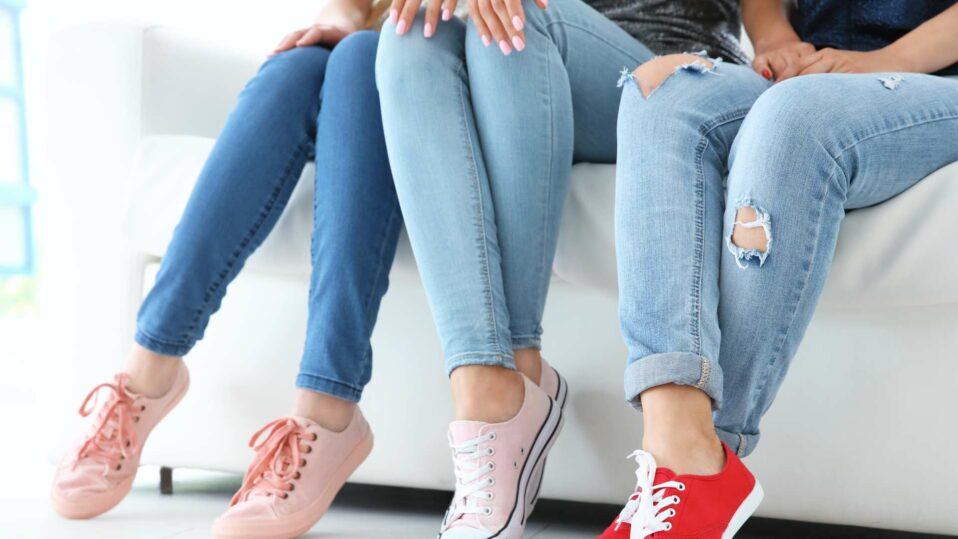 Jeans are an essential and versatile part of every woman's wardrobe. It's a garment we can wear to work, to a casual outing with friends or even on a date, depending on how it's styled. However, with a plethora of cuts, sizes, colours and styles available on the market, choosing the right jeans can often be a daunting task.
Understanding the different cuts of women's jeans
Understanding the different cuts of jeans available is essential to finding the one that best suits your style and body type.
Bootcut: These jeans are fitted at the hips and thighs, then flare slightly from the knee to the hem. Bootcuts are ideal for balancing shapes and are particularly suited to pear-shaped figures.
Slim: Also known as skinny jeans, this style is fitted from the waist to the ankles. They emphasize your curves and are ideal for slim people. They can also be worn by curvier women, as long as they fit well and are worn with figure-balancing clothes on top.
Boyfriend: This style of jeans is generally more relaxed and loose fitting. They are perfect for a casual look and suit a variety of body shapes. Boyfriend fit jeans are often worn rolled up at the ankles for a chicer look.
Mom Jeans: These high-waisted jeans that tighten at the ankles have a relaxed fit around the hips and thighs. Mom jeans are ideal for emphasizing the waist and creating an hourglass figure.
To choose a cut that suits you, you need to take your body shape into account. For example, if you have a pear-shaped figure (hips wider than shoulders), bootcut or flare jeans can help you balance your figure.
If you have an hourglass figure (shoulders and hips of the same width with a pronounced waist), you can choose from a variety of styles, but mom jeans or high-waisted jeans can particularly enhance your waistline. Ultimately, the most important thing is to choose a cut of jeans in which you feel comfortable and confident. Alternatively, for summer you can opt for the denim skirt, which is very much on trend these days!
How do I choose the right size jeans?
Choosing the right size is one of the most critical steps in buying jeans outfit for women. Well-fitting jeans can flatter your figure and give you a stylish look, while jeans that are too tight or too loose can have the opposite effect.
Know your measurements
It's essential to know your measurements before buying jeans. This includes your waist, hips and leg length. To measure your waist, wrap a tape measure around your natural waistline, which is usually at the navel. To measure your hips, wrap the tape measure around the widest part of your hips. Leg length is measured from the inner thigh to the ankle.
Trying on jeans
When you try jeans on, here are a few tips to check if the fit is right:
The jeans should fit comfortably around your waist and hips without being too tight or too loose.
You should be able to insert two fingers between your waist and the jeans. If you can't, the jeans are probably too tight. If you can insert more than two fingers, the jeans are probably too loose.
Make sure the jeans are the right length. If the jeans are too long, you can have them altered, but if they're too short, it's best to choose another size.
Pay attention to the fit around the buttocks and thighs. There shouldn't be too much excess material, and the jeans shouldn't be so tight that they restrict your movement.
Bear in mind that sizes can vary between brands and models. Don't hesitate to try on several sizes to find the one that suits you best. Remember that the number on the label doesn't define your worth: the most important thing is to find jeans you feel good in.