Beach jewellery fashion this summer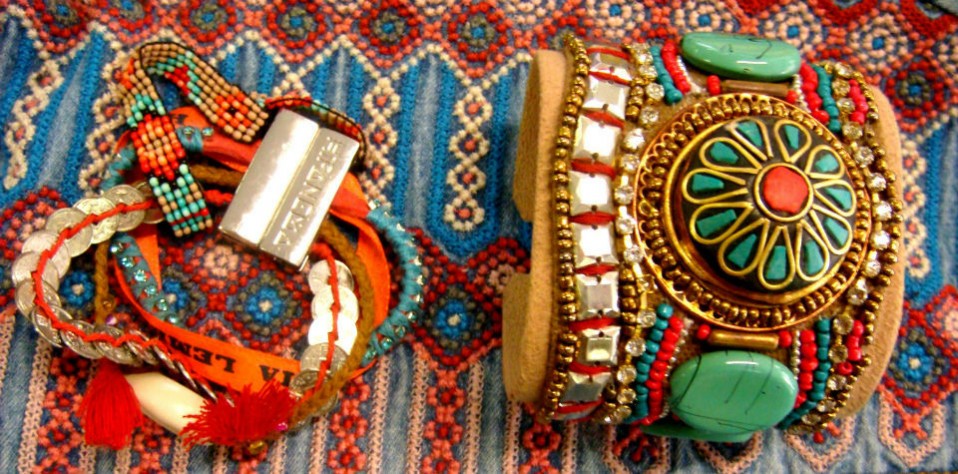 The fashion for 2015 will be excess: you need to clatter, jingle, we need to hear you from far away! You can gather ethnic jewelry, printed and colourful, crystals in every colour. Simplicity is the order of the day, and we're getting out all our colourful, handmade, or charm bracelets, or just gold jewelry.
Whether they're XXL or delicate, there's something for everyone. Here are some ideas for jewelry that we'll discover for summer 2015…
Brazilian bracelets
They've been everywhere for a few years now: Brazilian (Hipanema) and Colombian (Mishky)bracelets. We adore the sewn-on pearls, the multi-coloured strabs, and the tassels closing the bracelet that sit casually on the wrists. We want some!
Tribal ear cuff
The ear cuff, star of winter 2014, is returning this summer with the arrival of better weather. Instead of rhinestones and pearls, this time it's decorated with colourful feathers so you can be the coolest when you go and dance. It's worn with attitude, on one ear with the other one bare, with an earring that goes with the theme and colour of the ear cuff.
Chunky bangle bracelets
Simple and chic, worn on its own or with lots of others like an Egyptian princess, this summer the chunky bangle will be gold, silver, rose gold, engraved or streamlined. For those who still want bling, a pearled cuff bracelet is also a great call!
Skin jewelry
It's all the rage in LA in summer 2015: delicate skin jewellery. After having seduced Hollywood stars, Flash Tattoo arrived in France- look out for them on the beaches, at festivals and at concerts! Complimenting bronzed or tanned skin, these delicate tattoos worn with lots of bracelets or by themselves will make your friends go green with envy… Metallic or silvery, they'll make you shine like a diamond!
Statement necklace
Obviously still at the height of fashion, the statement necklace is even bigger and better this years! Feathered, jewelled, multi-layered, it'll compliment simple outfits perfectly. You can wear something anything thanks to this necklace!
But be careful when you buy your handmade jewellery: Nickel can cause allergies!
XXL Ring
Whether it's gold, silver, handmade or really made of precious stones, this summer the ring is going XXL! We're also going to be playing with lots of more delicate rings, and rings higher up on the fingers. 
What jewellery are you going to wear this year?